Dr Bhupathi Sridhar - HOD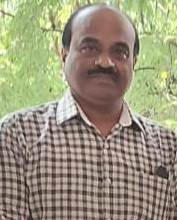 Dr Bhupathi Sridhar is the Head of the Department of Civil Engineering. He joined the college in the year 1991. He obtained his PhD degree in Transportation Engineering in the year 2002 for his research work on the topic "Strength and behaviour of Concrete with admixtures for structural and pavement concrete". He obtained his Bachelor's degree in Civil Engineering from Sri Venkateswara University, Tirupathi in the year 1989.He obtained his M.Tech degree in Transportation Engineering with distinction at Regional Engineering College, Warangal in the year 1991. His M.Tech thesis was entitled "Development of colored Asphaltic Pavements".
Dr. Sridhar has a number of research papers in conferences and journals. Currently he is involved in research in the areas of Geomatics and also analysis and design of pavements. He also delivered a number of expert lectures on topics related his research. He organized a number of workshops, conference and faculty development programs. He was also instrumental in the establishment of Transportation Engineering Laboratory at the Department. A Centre for Geomatics, the first of its kind in the combined state of Andhra Pradesh, was established in the college, owing to his efforts.
Dr. Sridhar is actively involved in various activities to promote engineering education. For over two decades, he organized and coordinated the value-added course on Geomatics for Civil Engineering students. He conducted twenty-four-hour traffic surveys from Charminar to Balanagar to implement the Light Rail Transit System. In collaboration with SATNAV, he worked on the following projects related to Geomatics and Transportation Engineering:
Digital database creation for intelligent transportation systems
GIS applications – Hospital information system
Educational Institute information system
GIS based model on AP tourism information system
He was instrumental in conducting traffic flow studies at Lakdikapul Junction. His studies led to the installation of traffic signals at the Lakdikapul Junction, leading to regularized and improved traffic flow. He was also instrumental in the formation of Transport Studies Group under the stewardship of Prof S. Raghavacharywith a service motto to improve the traffic conditions for the people of twin cities Hyderabad and Secunderabad.
He is the life member of Indian Society for Technical Education, Institution of Engineers (India), Indian Society for Remote Sensing and Institute of Urban transport (India).