Green Practices
Students and staff are encouraged to use Bicycles and public transport. The Institution provides good transportation facilities for the staff and students alike.
Pedestrian Friendly Roads
The entire campus is well laid out with black-top roads and pavements for pedestrian use.
Plastic free campus
Awareness is being created amongst the staff and the students to reduce the use of plastic. "Say No to Plastic" sign boards have been displayed at prominent places of the campus.
Paperless office
To minimize the usage of paper, all circulars for staff are placed in the intranet.
Course plans, lesson plans and academic schedules are sent to the students through group email.
Students are encouraged to use both sides of papers for record work.
Double-sided printing option is being used at all terminals with access to printers. Eco friendly initiative of using one side printed papers is encouraged. One side printed papers are used by staff for rough work.
Green landscaping with trees and plants
The Institution has a sprawling 12.7 acre campus with lush green lawns beautifully landscaped. The green ambience of the Institution is largely due to tree plantation which maintains the ecosystem.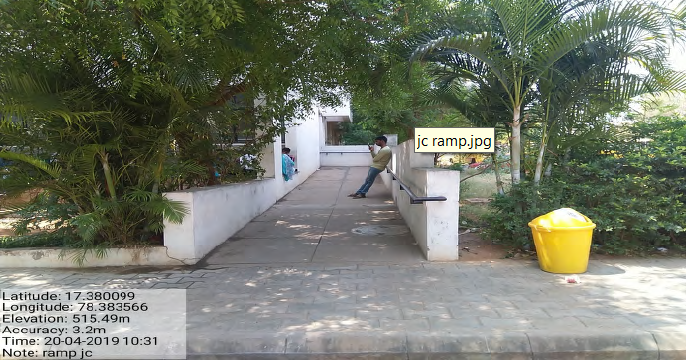 Every year tree plantation programs are taken up to increase the green cover on campus. Saplings are planted to encourage eco-concern among the students.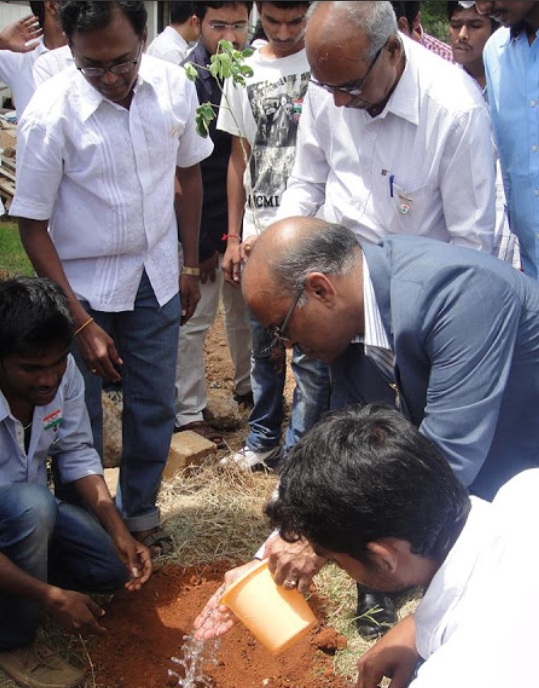 Save Power
Conserving electricity is the need of the hour. Students and staff are instructed to save power to the possible extent. Many sign boards to "save power" are displayed in all key areas of the campus.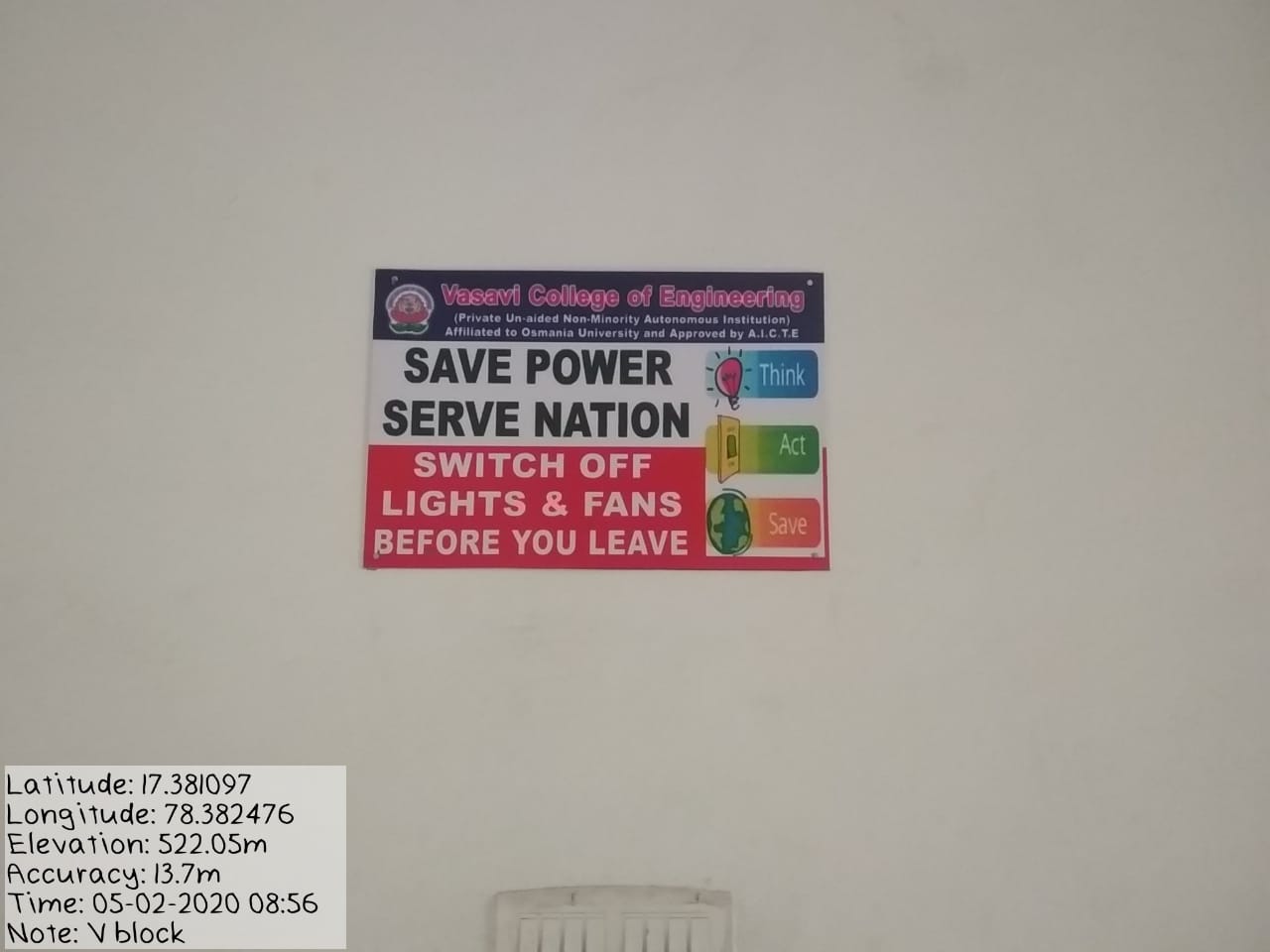 Energy efficient electronic gadgets are used in the campus to conserve energy. All classrooms are installed with 3600 PIR (Passive Infra-Red) motion sensors which are used to control the fans and lights depending upon the presence/absence of people in the room. This is done with a view to conserve electricity which is the need of the hour.
As part of Green Campus Initiative, Vasavi College of Engineering has initially commissioned 200kWp rooftop grid tied fixed tilt solar power plant in the campus in the year 2014. The rooftop solar PV plant was erected on J.C.Bose block and Viswesrayya block. A 41.53 Sq.mt area is available on J.C.Bose block on which 125 Kwp SPV Installed and a 25 Sq.mt area is available on Viswesrayya block on which 75 Kwp SPV installed.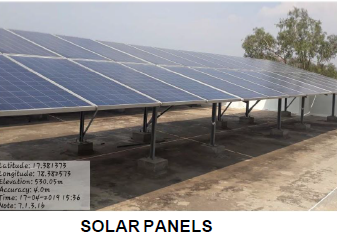 Save Water
Water conservation has become the need of the hour. To this end 24 rainwater harvesting pits have been dug in strategic places to collect the rainwater. The rain water is channelized properly to recharge the ground water level thereby reducing the dependence on water supplied by municipality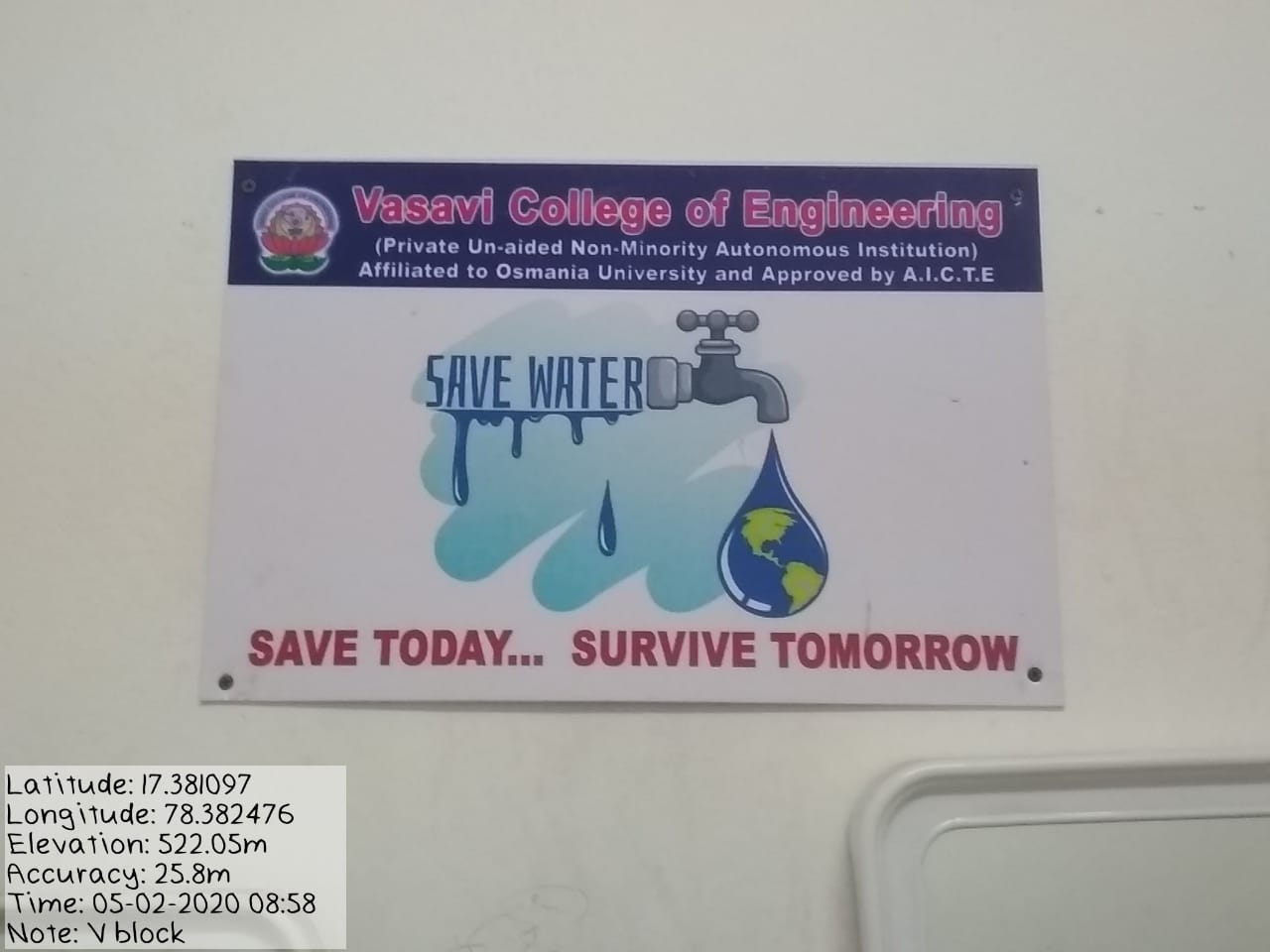 Students and staff are encouraged to minimize the wastage of water. For this purpose a display boards are placed at prominent places
Liquid waste generated by the Institution is treated by a Sewage Treatment Plant (STP) has a capacity of 50,000 litres. The treated water is used for gardening purposes. This saves potable groundwater and supply of plant treated water by government agency.