Department of Civil Engineering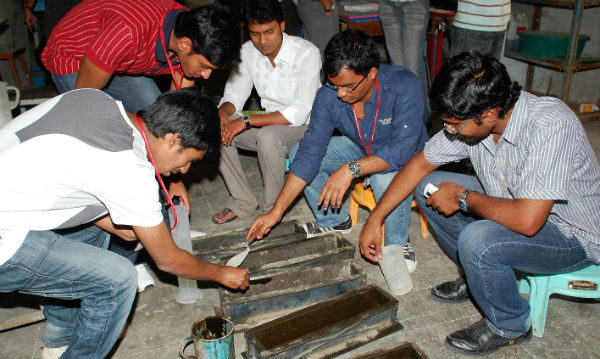 The Civil Engineering Department was established in the year 1981 and has been in existence right from the inception of the college. It offers B.E. Civil engineering course with an annual intake of 60 students.
Department has been conferred with Autonomous Status by the University Grants Commission (UGC) and Osmania University, Hyderabad for a period of six years with effect from the Academic Year 2014-15. The department has been accredited by NBA three times and has accreditation till June 2021. Choice Based Credit System (CBCS) is introduced to the students in academic year 2016-17 . AICTE Model Curriculum was introduced in the year 2018-19. Student enrollment is 100% and success rate is 100% for past two years.
Besides high-quality teaching, the Department is actively involved in material testing and consultancy works. The department has 16 highly qualified and experienced faculty members consisting of Professors, Associate Professors and Assistant Professors with an average experience of 15 years and 13 technical and supporting staff with an average experience of 20 years.
Faculty members of the department adopt innovative teaching practices and methods of modern pedagogy for effective teaching learning process. Faculty members are specialized in offering consultancy in the areas of concrete material testing, structural analysis, transportation engineering, water resources engineering and geo-technical Engineering. Total revenue generated from consultancy is Rs 30.00 lakhs in the last five years.
The Department has 10 full-fledged laboratories including a Centre for Geomatics and a project laboratory. The Department also has in its gamut an exclusive computing facility with the latest software in Design, Planning and Management, Remote Sensing, GIS, Land and Water Management, etc.
The undergraduate curriculum comprises of the following: Humanities, Basic and Engineering Sciences, Mathematical, Professional Core and Electives Courses, Open Elective and Skills Development Courses. Apart from the curriculum, students have Co-curricular and Extra-curricular club activities for imparting interpersonal, teamwork / multitasking skills to the students. A total 143 Co-curricular and 15 extra-curricular activities were conducted during the past five years.
Open elective courses were introduced to widen their horizons of knowledge and to enable students to work on multidisciplinary projects. NPTEL/MOOCs course helps students to improve their self-learning and knowledge and made mandatory for the award of degree.
A good relationship with industry is maintained for the student training, student internships & projects, industrial visits, expert lectures. Every year third semester students will undergo practical training in professional practice school with the various industries. In addition, regular Industrial visits are organized. Students take up internship with the industry from second year. Final year students take up projects in the industry.
The department encourages students to actively participate in extension and outreach activities under NSS unit which includes Swatch Bharat Campaign, Voter registration, Street Cause, Blood Donation Camps, Tree plantation etc.
The institute follows a Proctorial system in which around twenty students are assigned to each faculty. Besides this, personal counselling is given to students through a qualified professional Student Counsellor. The consistent academic and other support rendered, has resulted in increased net selections in placements and gradual improvement in average pay package. Performance in competitive exams have also increased resulting in admissions into Higher Educational Institutions both in India and Abroad.
The department has organised two international conferences and several national conferences. The department has a vibrant Research environment with linkages to Government R&D Institutes, Industry and Consultancy agencies. The Department was awarded 2 Research Projects worth Rs.5.16 lakhs lakhs by Government Agencies during the past five years. MODROBS sanctioned project worth Rs 14 lakhs has been completed. The Department has 3 functional Memoranda of Understanding's (MoU's).