Department of Mechanical Engineering
Dr. Ramamohan Rao Tinnavelli, Professor & HOD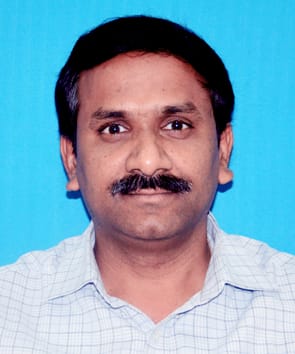 Ramamohan Rao Tinnavelli is Professor and Head, Department of Mechanical Engineering, Vasavi College of Engineering (VCE) affiliated to Osmania University, Hyderabad. He received his B.E. degree from Andhra University, Visakhapatnam; his M.Tech. from the Jawaharlal Nehru Technological University (JNTUH), Hyderabad and his Ph.D. from Osmania University, Hyderabad. He started his career as an Engineer (Production and Planning) with Prefab Gratings, Hyderabad. Professor Ramamohan Rao also taught at the Department of Mechanical Engineering, Shadan College of Engineering, Hyderabad, before joining Vasavi College of Engineering in 2000. Professor Ramamohan Rao has broad research interests, which include CAD/CAM, Optimization, Manufacturing Engineering and Rapid Prototyping. He is a life member of Indian Society for Technical Education (ISTE) and also he has been elected as National Executive Council Member from 2020 to 2024 for ISTE.
He has teaching experience of 23 years in various cadres such as Lecturer, Assistant Professor, Associate Professor and Professor at Vasavi College of Engineering (21 Years 6 Months).He also worked in Shadan College of engineering for 1 Year 6 Months. He has an industrial experience of 5 years. Since July 2018, he has been HoD & BoS Chairman of Department of Mechanical Engineering. He received a citation from Vasavi College of Engineering (5th Sept 2003), in recognition of "An Initiative taken by Young Faculty" to establish The Entrepreneur Development Cell in Vasavi College of Engineering. He has received an award of "Entrepreneurship Week 2016 Championship Award" and "Entrepreneurship Week 2016 E-Week School Innovation Award" from Wadhwani Foundation NEN.
He had published and Presented 25 No. of technical papers in National and International Journals and Conferences.
He is an author of a book chapter in "Lecture Notes in Mechanical Engineering (LNME)" by Springer series 11236.
He obtained a research grant of approximately more than Rs 1 crore which includes IEDC 40 lakhs, AICTE RPS 23 lakhs and DST FIST 30 lakhs. He is currently guiding 8 PhD scholars under Osmania University and 1 student was awarded PhD.