Dr. T. Adilakshmi, Professor & HOD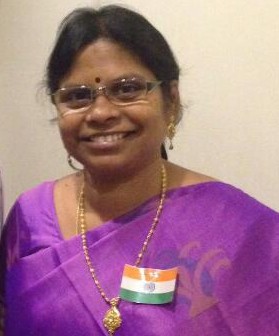 She obtained her B.Tech (ECE) degree from Vasavi College of Engineering (VCE) in 1986. She is an alumnus from VCE and belongs to the second batch of outgoing students from the institution. She pursued her Master of Technology (M.Tech) in CSE from Manipal Institute of Technology (MIT), Mangalore in 1993. She was awarded Ph.D in the area of Artificial Intelligence from Hyderabad Central University (HCU) in 2006.
She has an extensive and fruitful teaching experience of 34 years in various cadres such as Lecturer, Associate Professor and Professor at Vasavi College of Engineering (25 Years 10 Months) and Manipal Institute of Technology (MIT) (8 Years 10 Months). Presently, she is the HoD & BoS Chairman of Department of Computer Science and Engineering.
She was the TEQIP Coordinator for a period of 5 years, i.e., from January 2011 to August, 2016. She was also chosen to serve as the Secretary for Alumni Association at Vasavi College of Engineering, which has nearly 7000 active alumni contributing back to the betterment of the college and society. She has been consistently motivating the alumni to contribute their time to participate in the activities of the college, and also leveraging their contacts to support students in their various endeavors.
She is a recognized research supervisor at Osmania University and JNTU, Hyderabad. She has 154 journal publications to her credit in both national and international journals and conferences. Under her esteemed guidance and supervision, 4 research scholars were awarded PhD, and currently, she is supervising 14 Ph.D. students in the field of Machine Learning, Data Mining, Image Processing and Networks.
She was a recipient of the Best Teacher Award in 2005. She has always been motivating faculty in research activities and publishing quality journal papers. She received the "Best HoD of the Year" award from CSI Mumbai Chapter during TECHNEXT INDIA, 2018 event. She is also a recipient of "Eminent Alumnus of Vasavi College of Engineering" award during Osmania Engineers Centenary Global Alumni Meet in 2017.
Under her visionary approach, the faculty and students are motivated to study and work for the betterment of the institution. She has established the prestigious Industrial IoT Lab which is first of its kind among Engineering colleges under AICTE MODROB Scheme.
During her tenure as HOD in the last 16 years, there has been seen a significant appreciation in the number of companies visiting the campus and the average pay package offered to the students too has increased significantly.
A few commendable academic and societal reforms brought out by her are as follows:
The Curriculum design and updates incorporating the latest Technological advancements by offering Certifications of the Industry.
Sahaay – Not just being a facilitator of knowledge, she led the students drive an initiative that inculcated the habit among students and faculty to financially support needy students.
She is an active researcher in consultancy projects with Industries like Navaratan Technologies, LightSpeedAI Labs, Titan Industries, Zilan Technologies, BOSCH India, DRDO, ByDesign and Bhatt Biotech.
She was instrumental in receiving CSI Awards (Longest Continuous SBC, Best Accredited Student Branch, Largest Student Branch and Highest Committed Student Branch Activist) for the initiatives executed in the college.
In spite of being highly self-disciplined and rigorous in her work, she has always been benevolent, caring and empathetic with both faculty and students, and has always been a source of moral and intellectual inspiration to both students and staff.